Post by ironhamster on Dec 19, 2018 7:58:08 GMT -5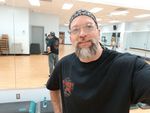 @ ironhamster ... not sure exactly what you mean, but the specifics we talked about and I insisted needed changed were spontaneous sex when the children were home (he has always refused sex when they are home because, "I'm too loud" ... this is nonsense after trying twice before and proving to him I didn't always need to bang  my fists on the damn headboard.  Christ, I'm not an idiot!  The scheduled sex needed to change, too, to more spontaneous so I felt like he actually wanted me and wasn't just fitting me in because it had been 'a while' and he felt obligated.  More random physical affection and flirtiness.  I also told him I MUST be able to randomly approach him and refused to just sit and wait until he was ready to approach me.  At present, I'm often times afraid to go initiate for fear of another rejection.  I said if I come to you, at reasonable periods of time, you must oblige in at least trying.  if you haven't taken your pill and don't function, fine, but you must at least reciprocate with some physical affection towards me.  
The next day I was walking down the stairs and he was coming up.  We stopped, I kissed him, he kissed me back, hugged me then grabbed my ass in the best of ways.  I acknowledged that and said I loved when he did that .... but then followed it up with a "it'd be nice if that lasted more than 3 weeks"  then kissed him strong again and continued down the stairs.  That was my way of saying thank you for that, that's what I'm looking for, but it can't be a temporary thing.  This needs to be a permanent (or more often than not) change.  
Not sure if that is specific enough or what you meant, but that's where we started.  Obviously, this is a work in progress, but I know I must keep my foot on the gas pedal or we will surely slide right back to where we were which, I've made clear, is unacceptable and will not be tolerated, regardless of whether I love him / he loves me, or not. If I've missed your point, please clarify. 
Oh. (Smiles) Allow me to be more specific. My point might not apply to you.
Some refusers have talked about the sexual needs of their spouse, but they will say vague things like they want to meet their needs. The spouse has expressed their needs, how they want to be intimate and how often and in graphic terms, but the refuser won't even acknowledge either. Imagine telling your spouse you wanted an hour of multiple position sex at least twice a week, and your spouse lovingly responded about your needs but never suggested which piece of furniture you wanted to tear each other up on. Just, vaguely, meeting your needs, whatever they think that might mean.