Post by elynne on May 23, 2018 3:12:26 GMT -5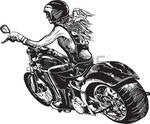 She tried to sweet-talk me; filled me with compliments. She isn't a horrible supervisor, so I have heard appreciation from her before, but she really laid it on thick last week. I was genuinely flattered. She listed all my strengths and why she is sad to see me go. That made me feel guilty and like a failure -- WHY can't I make this work if I am so good at it?? She advocated with the higher-ups to get a supervisor for the hourly case load of 27 clients. Not going to lie, that would be a huge help for my position. So, again I was tempted. But then I started realizing nothing really changes if I stay. It's impossible to find staff in this field, and for this company especially, so the new hourly supervisor would be doing direct care (which, yes, is a load off) but that still leaves ALL the files/paperwork on my shoulder). And then what if she goes on Leave of Absence? (I swear, everyone goes on LOA in this field). That leaves me screwed again. I am always one phone call away from complete, utter chaos in this job.
The clincher for me was when I finally got home at 7pm on Friday night after putting in 65 hours last week (I am going to complete everything on that list prior to my departure) and I get a call from the weekend overnight staff "Sorry, I can't work all weekend, we have a family emergency." I was like, "FUCK MY LIFE!!!" So I spent another hour making calls, fearful I would have to go in to work direct care if I couldn't round up staff. I even had my bag packed as it came down to the wire. So, I got the staff, but everyone is burnt out and tired and I feel guilty asking them to put in more overtime (at least they get paid for overtime; I, on the other hand, do not). Writing "Thank you everyone for working your scheduled shifts" on the staff schedule doesn't help. People call in sick ALL. THE. TIME.
So, I finally got the calls done, weekend covered and I was like "oh hell no." I am not doing this for life. For no raises, to boot. Sure, they shell out money for a "supervisor" (that would never work the way they think it will) but no offer of a raise for me.
Then Saturday night I got a mean text from a crazy legal guardian I am dealing with. Another "seal the deal" moment.
Nope. I am moving on and feel very confident about it now.
Don't accept "resets" - they are lies.
On the plus, because I really am leaving things nice here, my STBXB is letting me use sick time for the two days off I had planned from a long time ago for next week, instead of PTO, so that my PTO pay out is bigger. I was genuinely floored by that and told her I was not expecting that, but if she is offering it, I will accept. I will finish out Wednesday, Thursday, Friday next week and be done. I am grateful to her and she's a good person, it's just this is not the job for me. No guilt. Move on. I am leaving things VERY ORGANIZED for them. Any upcoming meetings for the next two months are prepped and ready to go. It's my way of making this easier on me, though, too. I want to feel good about our "split."
On to new things.
Just had to share.

They were lucky to have had you! And good for you for moving on.