Post by mirrororchid on Jan 18, 2021 7:07:43 GMT -5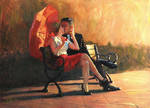 He's stressed I understand, but it's the perfect opportunity to watch. And you have a right to know since he's not intimate. That depends if you even want to know. Smells fishy.
To what end?
To Baza's point, maybe she's in a geographic area where infidelity means larger divorce settlement?
Given her knowledge of the situation, it rings a bit hollow to play that card.
If he's sexless with both women, does that help to know, in her case?
It's substantial investment of time to prove something that won't get her intimacy she wants.
Might that time be better spent on the usual prep Baza and others recommend? Sorting your sh*t out. Shoring up life skills that have grown soft from depending in a spouse, self-esteem boosts (fitness, education, business promotion, squirreling money, etc.)
The whole spycraft approach to marriage is to validate one's feelings of distrust. There's two results form that. You either establish said trust's status and be done with it, one way or the other. Or you endlessly look for weaknesses in the cad's defenses. Perpetual distrust is exhausting and miserable. A spouse who's true doesn't deserve relentless suspicion and you should leave. A skunk you can stay with aware that he's a skunk, or leave ASAP. Maybe open the marriage on both ends and add a monogamous partner to one's life (or poly. A refused spouse would be odd to demand fidelity from a mistress/mister (the male form of mistress. had to google it. No wonder doctors insist on their titles sometimes.)
Just remembered a funny (to me) proposal I thought of for women that are dubious about taking back a cheating husband. Write up a post-nup. If he's caught cheating again, the post-nup calls for a 60-40 split. Or 70-30. Etc. His reaction may tell you volumes about his intentions. Fidelity? Or being more careful next time. You're then getting well paid for your P.I. schtick should you find a second cell phone in his sock drawer, still charged.
I'd like to modify
apocrypha
's common question. Is surveillance what you bought into when you said "I do"? Is it a marriage? Or a stealth intelligence operation? If this is what has become of your life, maybe a hard pass is it order.