Post by greatcoastal on Mar 2, 2019 16:46:25 GMT -5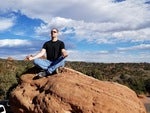 elynne
. I haven't heard of EMDR, and will look into it. The memories are plentiful and painful...I've been encouraged to see them more as reminders of what my "dream" has been in the past (as in, family unit). Now that I no longer have that option, I feel it's time to create a new "Dream" and figure out how it aligns with my new emerging self.
Thanks also for the "Going Gray Rock" suggestion. Hadn't heard of that, either. But that does seem useful.
Love the third suggestion. I have found a few friends who fit that bill, and funny enough, it sets up quite the contrast. It was startling at first to realize how kind women were to me.
The third isn't surprising. It took most of a year for the inner monkey in my head to stop wondering when
ballofconfusion
was going to stomp on me.
I am going through much of this right now. I've been together with my girlfriend over 2 months. We see each other almost every day.
Meanwhile I found myself saying today,"you're not listening to anything I suggested, are you?". " You are changing the subject. Can you even repeat what I said?". " Then you help yourself, when you want to, and when you are ready. I am going to leave it all up to you. So please stop complaining about it. I offer to help you, and you don't want it. You will have to take that first step, by yourself." ( I was encouraging her to update her phone)
" "I don't like having my words and actions rejected and ignored. You should know by now that I am very keenly aware of these things"
" You say to me, I know, I know. Do you? Tell me then, what it means? You don't know do you? I might as well be talking to the wall instead". ( I mentioned zip code therapy to her)
Part of that may be me, fearing that I am going to be stomped on any time, and another part of me says...." you have come a long way, you went through a lot, don't be disrespected and ignored".
For the record.. she does not ignore me... she wants and desires me excessively! ( something I am definitely not used too) But... their is all the other parts of a relationship to consider.